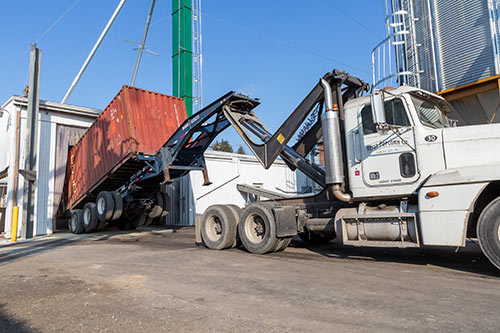 Transloading is the process of transferring a shipment from one mode of transportation to another.
Transloading is most commonly employed when one mode cannot be used for the entire trip, such as when goods must be shipped internationally from one inland point to another.
Reist Transload offers a comprehensive list of transloading services at the site in Mount Joy, Pennsylvania.
We specialize in Organic Bulk Container Loading and Unloading. We are able to transport 20' or 40' containers from the Port to our facility with our own fleet of trucks. The facility is setup for high speed handling of 6000 bushels per hour. The process for unloading a container from start to finish is very efficient, safe, and clean.
"Reist Transload handles products from container to truck, container to rail, rail to truck, or truck to rail."
Reist Transload is able to temporarily store products in bins to fill in the gaps on transportation logistics. This option is very valuable to our clients. They like the idea that products are stored in a secure facility that is able to keep pests and weather out of their products. Organic product integrity is our specialty.